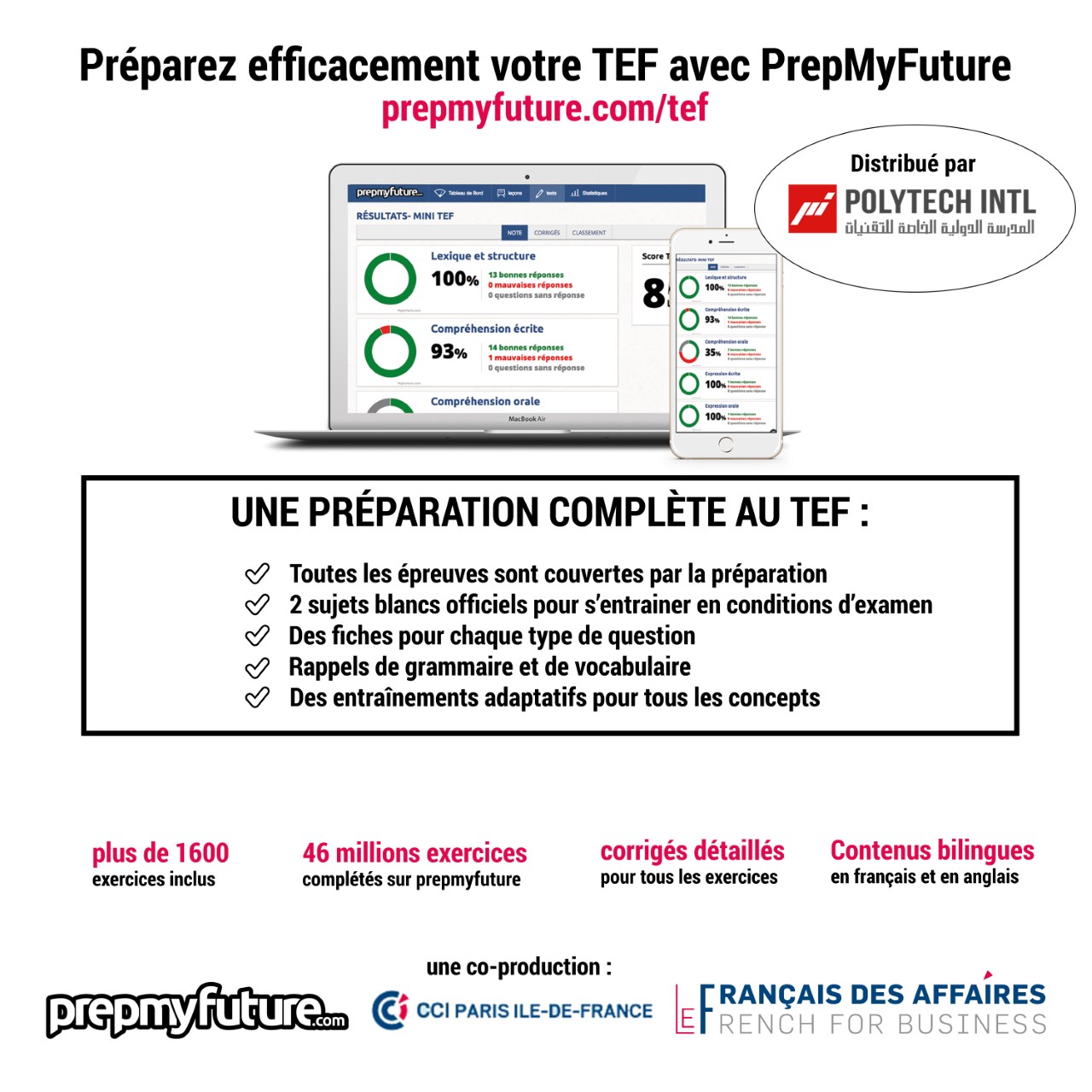 Test D'évaluation De Français (TEF)
Polytech Intl's TEF-TEFAQ Centre has been approved by the CCI Paris Ile-de-France since 2017. It regularly organises TEF sessions in electronic and paper versions.
Le Test d'évaluation de français pour le Canada et le Québec est un examen de référence internationale mesurant le niveau de connaissances et de compétences en français. Le TEF est Créé en 1998 par la CCI Paris Ile-de-France. La validité des résultats est de deux ans. Vu les conditions sanitaires du pays les inscriptions au TEF se font désormais exclusivement en ligne : merci de télécharger la fiche d'inscription sur cette page et d'effectuer un virement bancaire. La fiche bien remplie et le reçu bancaire doivent être envoyés à s.eghrairi@pi.tn. Pour plus de renseignements : Contact : 99 22 10 54 / 93 109 250 /
Registration at the centre, rue du lac d'Annecy; from 1st June. Form to be filled in on the spot + a copy of the CIN + 1 identity photo + 650 dinars.
Remote registration from now on:
bank transfer is possible. Ask for a registration form and the centre's RIB from f.abid@pi.tn or s.eghrairi@pi.tn
In view of the current pandemic, the Paris Chamber of Commerce has decided that the Tef sessions will henceforth be electronic only.
► All certificates are temporarily dematerialised. Candidates will be able to print them from home and they will be accepted by prescribers, including Canadian authorities.
► The delay for issuing results is currently about 4-6 weeks.
For more information: Contact: 93 109 250 / 97 573 377 / 99 22 10 54
NB : Les inscriptions sont closes 7 jours avant la date de l'examen.
10/12/2022
07/01/2023
21/01/2023
04/02/2023
18/02/2023
04/03/2023
18/03/2023
01/04/2023
15/04/2023
29/04/2023
13/05/2023
27/05/2023
10/06/2023

In cash:
at the International Private Polytechnic School of Tunis at LAC 1 (Rue du Lac d'Annecy, Les Berges du Lac 1053, Tunis, Tunisia)
Par virement bancaire (envoi du reçu 7 jours avant la date du test est obligatoire à f.abid@pi.tn afin de réserver votre place):
RIB : 10 112 1071068271788 06
IBAN: TN 59 10 112 1071068271788 06
BIC: STBKTNTT
Name/Raison : ARTS ET TECHNOLOGIES INTL SCIENCES