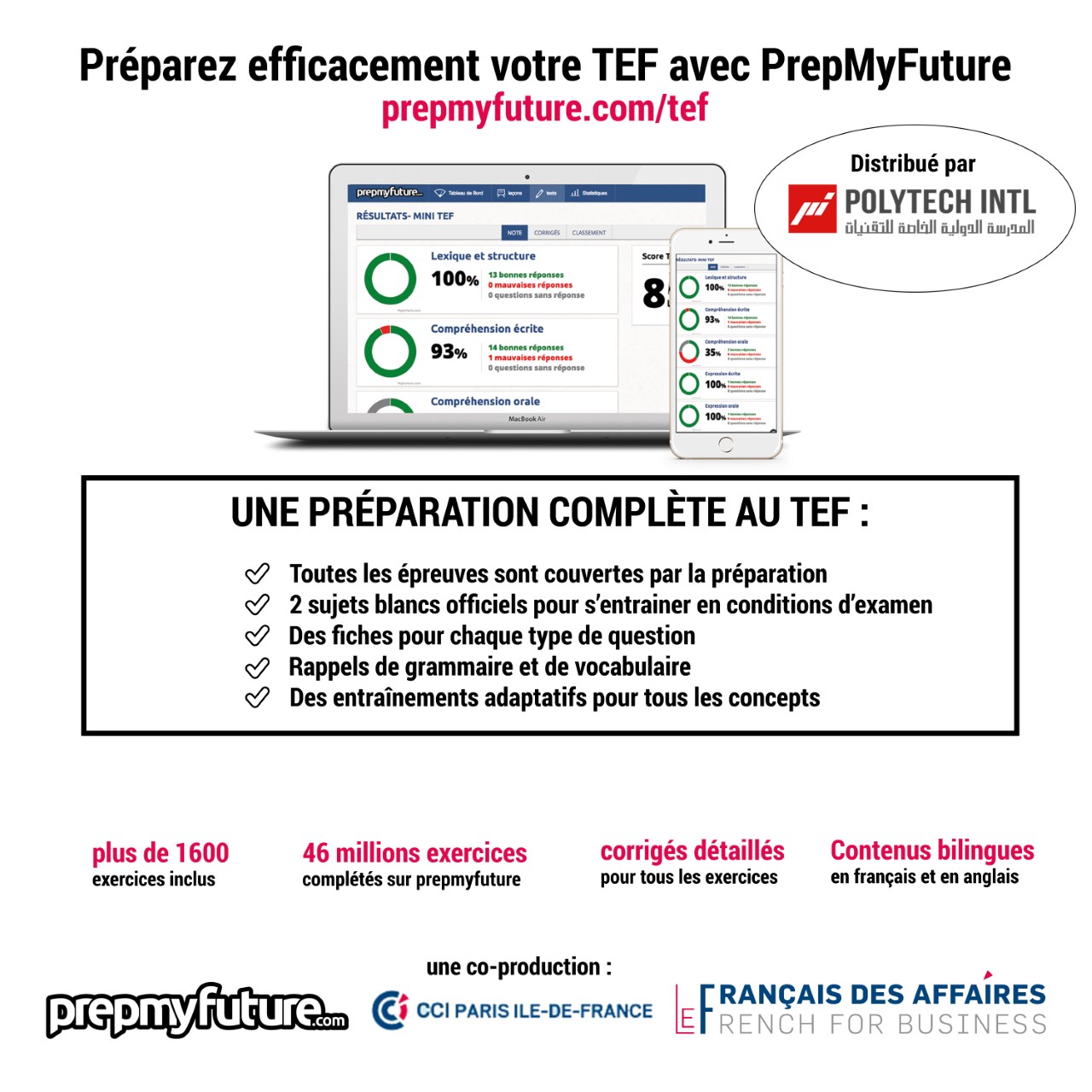 Test D'évaluation De Français (TEF)
Polytech Intl's TEF-TEFAQ Centre has been approved by the CCI Paris Ile-de-France since 2017. It regularly organises TEF sessions in electronic and paper versions.
Le Test d'évaluation de français pour le Canada et le Québec est un examen de référence internationale mesurant le niveau de connaissances et de compétences en français. Le TEF est Créé en 1998 par la CCI Paris Ile-de-France. La validité des résultats est de deux ans. Vu les conditions sanitaires du pays les inscriptions au TEF se font désormais exclusivement en ligne : merci de télécharger la fiche d'inscription sur cette page et d'effectuer un virement bancaire. La fiche bien remplie et le reçu bancaire doivent être envoyés à f.abid@pi.tn. Pour plus de renseignements : Contact : 99 221 054
Registration at the centre, rue du lac d'Annecy; from 1st June. Form to be filled in on the spot + a copy of the CIN + 1 identity photo + 650 dinars.
Inscription à distance à partir d'aujourd'hui :
le virement bancaire est possible. Demander une fiche d'inscription et le RIB du centre auprès de f.abid@pi.tn
Vu le contexte de pandémie actuelle, la CCI Paris a décidé que les sessions Tef seront désormais uniquement électroniques.
► Toutes les attestations sont temporairement dématérialisées. Les candidats pourront les imprimer de chez eux et elles seront acceptées par les prescripteurs, autorités canadiennes incluses.
► Le délai de délivrance des résultats est actuellement de 4 à 6 semaines environ.
Pour plus de renseignements : Contact : 99 22 10 54
NB : Les inscriptions sont closes 7 jours avant la date de l'examen.
01/10
15/10
29/10
12/11
26/11
10/12
24/12

In cash:
at the International Private Polytechnic School of Tunis at LAC 1 (Rue du Lac d'Annecy, Les Berges du Lac 1053, Tunis, Tunisia)
Par virement bancaire (envoi du reçu 7 jours avant la date du test est obligatoire à f.abid@pi.tn afin de réserver votre place):
RIB : 10 112 1071068271788 06
IBAN: TN 59 10 112 1071068271788 06
BIC: STBKTNTT
Name/Raison : ARTS ET TECHNOLOGIES INTL SCIENCES